Free Speech Restricted: Pres. Obama Quietly Signs H.R. 347 Bill That Makes It a Felony to Protest Near Areas with Secret Service (video) « Frugal Café Blog Zone
See on Scoop.it – Prepping and Thriving via Smart Simple Living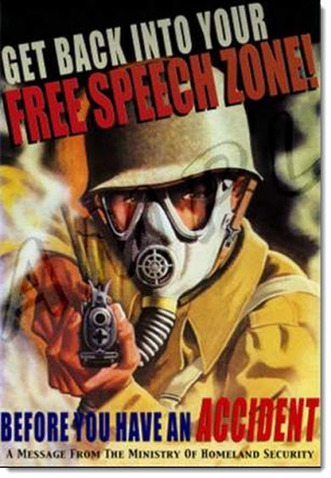 Unhooked Living's insight:
It takes decades for people to pay attention. Part of the problem is the left/right divide and conquer mentality. Free speech zones have their roots in the Viet Nam demonstration era and were expanded during the Bush regime.
"When Bush came to the Pittsburgh area on Labor Day 2002, 65-year-old retired steel worker Bill Neel was there to greet him with a sign proclaiming, "The Bush family must surely love the poor, they made so many of us." The local police, at the Secret Service's behest, set up a "designated free-speech zone" on a baseball field surrounded by a chain-link fence a third of a mile from the location of Bush's speech. The police cleared the path of the motorcade of all critical signs, though folks with pro-Bush signs were permitted to line the president's path."
"Free-Speech Zone"
The administration quarantines dissent.
By James Bovard • December 15, 2003, The American Conservative
http://www.theamericanconservative.com/articles/free-speech-zone/
See on www.frugal-cafe.com