Federal Reserve Admits "We Have NO Gold"
See on Scoop.it – Prepping and Thriving via Smart Simple Living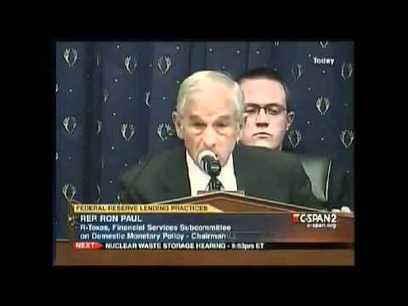 Links: http://tv.globalresearch.ca/2011/08/federal-reserve-admits-we-have-no-gold Ron Paul 2012 http://www.ronpaul.com/
Unhooked Living's insight:
WHAT GOLD? WE DON'T HAVE ANY GOLD
Ron Paul:…During the financial crisis, has the federal reserve or treasury participated in any gold swaps arrangements?
Alvarez, Fed Reserve: The Federal Reserve does not own any gold at all. We have not owned any since 1934. So we have not engaged in any gold swaps.
Rep. Ron Paul: But it appears on your balance sheet that you hold gold.
Alvarez, Fed Reserve: What appears on our balance sheet is gold certificates. When we turned in…before 1934 the federal reserve did own goal. We turned that over by law, to the treasury, and received in return for that, gold certificates…
Ron Paul:…you have the securities for essentially all the gold?
Alvarez: No, we have no interest in the gold that is owned by the treasury. We have simply an accounting document that is called gold certificates that represents the value at a statutory rate that we gave to the treasury in 1934.
Ron Paul: It's still measured in $42 an ounce, which makes no sense whatsoever.
See on www.youtube.com